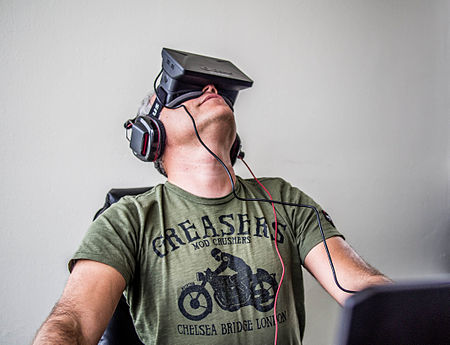 What Facebook adds most to my life is the ability to keep in touch with friends and family near and far within an immersive and interactive environment. Within seconds I can see what's going on with family in Indonesia or friends in Australia. Right now, that ability is limited to pictures, videos, and chat messages. Oculus Rift can change that by allowing 3D experiences.
I first tried a pair of the Oculus Rift before Facebook acquired the company at the 2013 Augmented World Expo in Santa Clara. When I used it I was instantly teleported to a villa in the French Riviera with geraniums and hanging terracotta pots and all. When my head turned, I was able to virtually go into a different room in my French Riviera villa. The eyepiece was heavy and I got a little nauseous after a few minutes but overall the idea and the experience of being able to move in a completely different world in 3D was awesome.
Facebook's investment into the company would do well to improve the user experience – to make the eyepiece easier, more comfortable to use for longer periods of time, and yes let's admit it – a little cooler. Ok much cooler. The coolness factor is so critical in consumer technologies. Just ask Apple's shareholders whose investments have paid off hundreds of percent over.
Another Facebook initiative, Internet.org, strives to get every person on the globe, even in the remotest corners of the world, on the internet. Imagine a doctor being able to conduct a live medical appointment and give treatment via the Oculus Rift. Think Ebola patients and their team of medical providers. Or being able to join your sister's wedding in Venice when you can't attend because of work. The benefits can span from saving lives all the way to reducing carbon emissions by not having to fly as frequently.
The company has also reported that online video advertisements will increase in the coming years. Imagine being able to run in the Amazon jungle solely by putting a pair of glasses on. One of my recent favorite commercials was done by Dawn documenting a bird rescue. I'd definitely pay a few hundred dollars for a pair of glasses so I can be right next to the birds as they fly off into the horizon or to instantly be teleported to a relative's wedding on the beaches of Bali.
With Oculus Rift, the internet, and the Facebook platform, the world would be a much cozier and richer place.